THE RACE – Challenge Yourself, YOU CAN DO IT!
A distinctive 5K run with 15-17, physically challenging obstacles.   Fun for athletes of all levels, first timers and experienced.  
If you like mud, tough terrain, water, woods, walls, and fire…You'll Love This!
The Raymond Area Rotary Club puts on the Thunder Run every year.  All proceeds benefit the local community and Rotary International's worldwide projects.  So get some exercise but also know you're supporting a great cause.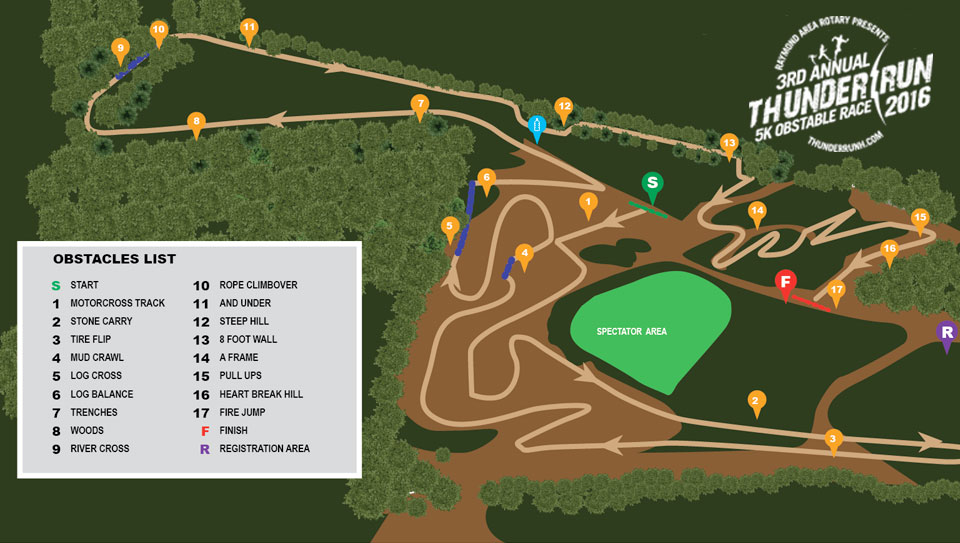 ---
THE DEETS
Where is it?
New England Dragway, 280 Exeter Road, Epping, NH  03042  directions
As a runner what do I get?
Besides running an amazingly, fun race…..you have access to the Sponsor Tent Access, an Epic T-shirt, and a Beer/Sports Drink.
I have questions about my race, should I contact the venue?
Please DO NOT CALL New England Dragway with questions about the Thunder Run. They will not have any answers. Please send all race-related questions via our Contact Page.
How do I register for the Thunder Run?
Go to our registration page, SIGN UP
What is your T-shirt Policy?
What is your Team Sign Up Pricing Policy?
Do you offer refunds?
Unfortunately, we don't offer refunds.
Can I bring my friends and family?
YES!  You want people cheering you on and telling everyone after how awesome you are for your amazing accomplishments.  Spectators are $3 each.
Is there an age limit or minimum age to participate?
Runners must be 14+ and anyone younger than 14 must be with an adult and will be advised to stay away from certain obstacles.
What time do I arrive on race day?
1.5 hours before your race time should be sufficient with traffic and lines.
What should I wear?
Totally up to you!  We suggest trail running shoes/sneakers and clothes that you don't care about….the crusty clothes from the last race….It's up to you!
Is weather an issue?
We will race rain or shine, heat or snow…THUNDER! For us to not have a race, it must be a severe act of God such as a hurricane, forest fire, flood, etc.. So, if you get up and it is pouring rain, we are racing. If it is snowing, we are racing. If it is hot, we are racing. If it is cold, we are racing.  It only makes it more FUN!
IF for some reason we must cancel an event due to uncontrollable weather conditions, emails will go out and announcements will clearly be made here on the site and via social networking channels.
I hear there are water obstacles…I Can't Swim?
No problem!  We encourage racers to try all obstacles.  But if you can't, don't stress, skip it.  No Burpees Required.